This week we'll be starting the first hedda knits mitt-along! I'm excited to see how this goes. I've never actively participated in a knit-along, but I love seeing how others have interpreted a pattern I'm knitting, and seeing how different yarn and colour choices affect the look of the finished object. It's eleven billion times cooler when it's a pattern over which I've spent hours agonizing and tweaking to get the perfect look, because then I get to see other people try out the colours I wish I could have used. Sometimes the colour combinations and modifications on my pattern blow my mind, and open up a whole cartload of new ideas.


Starting August 15th, we'll be knitting my "
La Joie du Printemps
" mittens (although anyone is welcome to participate with another hedda knits pattern-- the mittens are all constructed in the same way).
I have a soft spot for this design as it was my first for-sale pattern, originally designed for an auction held by the Completely Pointless and Arbitrary Group to benefit Haiti earthquake survivors. The mittens were inspired by Art Nouveau, particularly the work of Alphonse Mucha, the intricacies of floral brocades, and the budding tulips of an Ottawa spring. The colours of the contrast yarn reminded me of lines from one of my favourite poets, Bliss Carman:


Now the lengthening twilights hold
Tints of lavender and gold,
And the marshy places ring
With the pipers of the spring.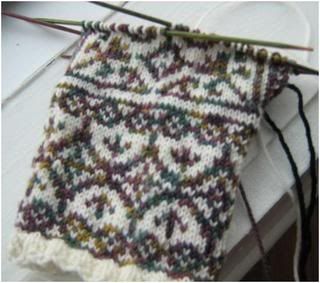 The background colour is
Knit Picks Stroll
in bare, while for the contrast colour I used
Diamond Yarn Foot Loose
in colourway 11 ("copper"). I think Stroll is becoming one of my most favourite mitten yarns-- deliciously soft, sproingy, and with crisp definition, for an incredibly affordable price! I wish I could buy all the colours up (as well as the Palette colours... yum).


Please feel free to
join our mitt-along
on Ravelry. All participants will be entered into a small draw (there will be a bigger prize draw in next month's mitt-along in honour of my birthday!).